Join us for the Parents as Partners Conference on Saturday, April 28, 2018! This conference is presented by the Parent Involvement Advisory Committee (PIAC), Special Education Advisory Committee (SEAC), Mental Health and Well-Being Parent Partnership Committee and Model Schools for Inner Cities' Parent Academies and is an all-inclusive conference for TDSB parents and caregivers.
Registration opens March 1, 2018! Register early as there is limited space in each workshop!
Who:
ALL parents/guardians and caregivers of TDSB students are invited and welcome to attend.
What:
Parents as Partners Conference 2018 is a FREE conference. Whether your child is just beginning on their educational journey in elementary school or closer to graduation and planning for the future, there are informative and empowering sessions for parents/guardians and caregivers of students of all ages and all stages of education.
Where:
Beanfield Centre (formerly named Allstream Centre) 105 Princes' Blvd, Toronto, ON M6K 3C3.
Busing is available and can be chosen when you register online. Pickup at each busing location will be at 8:00 a.m.
Why:
The Parents as Partners Conference 2018 is planned by parents, for parents and we are so pleased to be able to offer a selection of sessions that cover a broad range of topics to provide parents with useful information and resources to help your child improve their achievement and well-being at school and at home.
Accessibility:
All seminar rooms are wheelchair accessible and reserved seating will be available.
Please identify yourself to conference staff for assistance in locating wheelchair accessible entrances and washrooms. Feel free to contact us in advance of your arrival if you have any concerns.
---
Unstoppable Tracy is the Keynote Speaker!
Tracy is UNSTOPPABLE - and not just because she was cameoed in the movie Robo Cop.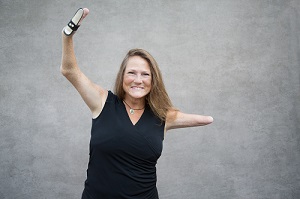 She has shared the stage with Jane Fonda, John Travolta, Mel Gibson, Mark Whalberg and more! Unstoppable Tracy was awarded first place at a Top 1% International Motivational Mega Speaker conference of thousands. She is the winner of the 2017 Robert W. Jackson Award [Founder of the Canadian Paralympics], 2017 Ontario Premier Awards winner and 2018 Women of Essence Global Award Nominee and as seen on CBC, NBC, and FOX!
Oprah Magazine shared her story as Quest for the Gold World Cup Sailor, who climbed Himalayan mountains, captained 110-foot-tall ship, won paraskiing bronze and funny too.
Oh, did I mention she was born a 4-way amputee?
Unstoppable Tracy is an award winning Educator and Leader in schools, business and in sport, Humanitarian, Advocate, Decorated Athlete, International Speaker delivering the Lim[b]itless Secret. Now she adds best selling author to her long list of amazing accomplishments. Cup of Chicken Soup for the Soul endorsed her upcoming book 'Unstoppable YOU; Exceed Uncertainty, Embrace Possibilities, Earn Independence'.
Tracy doesn't just talk high performance in business...she lives it. As Corporate Consultant while at Air Canada (AC) and Shoppers Drug Mart (SDM) she worked simultaneously with management and unions over the competing demands of airline bankruptcy looming and pharmaceutical reform to facilitating restructuring plans that enabled AC and SDM to maintain their high standards out performing the stock market providing numerous award winning training programs. Tracy was sought after for the Planning and Integration of the Pan Am and Parapan Am games in which she supported the largest most successful games ever.
Let Unstoppable Tracy BEd, MBA transform an Unstoppable YOU in schools, business and in life! Her mantra, If I Can Do It You Can Do It! What's Your Excuse?